About Joe Boyle
About Joe Boyle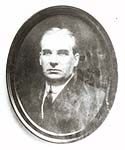 Joseph Whiteside Boyle's career is a remarkable one. The Boyle family moved from Toronto, where Joe was born in 1867, to Woodstock in 1871 and in the 1890s acquired a 50-acre estate on the eastern outskirts of the town.
On graduating from Woodstock College, Joe traveled to and from New York with his father, Charles Boyle, a prominent horse trainer. Seeking adventure, he went off to sea for three years. On his return, he settled temporarily in New York; but, on his marriage's subsequent break-up, he brought his young son, Joe Jr., and daughter, Flora, back to Woodstock. Two younger daughters, Charlotte (later an Olympic swimming medalist) and Susan, remained with their mother.
In 1897, in company with heavyweight boxing contender Frank Slavin, he journeyed to Dawson City before the bulk of the gold rush and quickly became one of the most famous entrepreneurs developing the gold fields. His Klondike Valley concession spanned 45 square miles; his simultaneous business ventures into utilities and supplies made him a leading figure in the Yukon. He was deeply involved in all aspects of Dawson's community life; in 1905, he equipped and brought the Dawson City hockey team to Ottawa to compete in the Stanley Cup final.
His international associations included Herbert Hoover, Lord Beaverbrook and Clifford Sifton. At the outbreak of World War I, at the age of 47, he outfitted and presented to the Canadian Army the 50-man Yukon Machine Gun Company. Named an Honorary Lt. Colonel of the Canadian Militia, he was adjudged too old to command it in the field.
In June of 1917, after agitating in London through his business and government connections for a active post, he was appointed to conduct a private mission to Russia's provisional Kerensky government. There he assumed command of the transportation system on the southwestern front, boldly taking control of troops in a desperate situation at Tarnapol after the Brusilov offensive, an action for which he was decorated in the field by the Russian Commander-in-Chief.
He then worked on communications for the Bolsheviks, but, soon disenchanted with their motives, joined the Roumanians at their request, aiding them against both the Bolsheviks and the German Central Powers. He maintained a wide-ranging network of 450 agents for British intelligence in Southern Russia. At great personal risk, he saved the lives of 50 Roumanian aristocrats and government officials, held hostage by the Bolsheviks at Odessa.

In another daring episode, he rescued the Roumanian treasury, archives and crown jewels from Moscow and returned them to Bucharest, where he was hailed as a national hero and awarded their three highest decorations. He became a confidant of Queen Marie of Roumania, granddaughter of Queen Victoria, who personally nursed him back to health when he suffered a stroke in 1919.

After negotiating the first treaty of the war, between Russia and Roumania, he distributed $25 million in aid from Canada which he had persuaded Robert Borden to provide. He was successful in bargaining with the Roumanians for oil for Britain.

In 1922, on behalf of Royal Dutch Shell, he attempted to secure the return of Britain's Caucasus oil holdings from the Bolsheviks, for which he was awarded the D.S.O and French Croix de Guerre. Under these stresses, Boyle suffered a second stroke and died in 1923 at the home of a Klondike friend in England.

Queen Marie installed an ancient Roumanian stone cross on his grave, as well as a ledger stone on which was engraved 'man with the heart of a Viking and the simple faith of a child', from the Robert Service poems he had read to the queen and her family. Only 56, he had packed several lifetimes of adventure into those few decades, an extraordinary man of extraordinary times.

In 1983, at the request of his daughter, Flora, a committee of Woodstock citizens arranged for the repatriation of Col. Boyle's English grave to Woodstock. The Department of National Defense flew his body home for a full military funeral. Among the official guests on Joe Boyle Day, June 29th, 1983, were Lt. Governor John Black Aird, Ontario Heritage Board Chair John White, Col. T.F.G.Lawson of the Royal Canadian Regiment, and Whitehorse Mayor Florence Whyard.