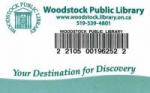 Library cards can be immediately issued at the Check In desk to those who have identification and proof of address.
Who is eligible?
Registration is FREE for:
Residents of Woodstock
Persons owning or renting property in Woodstock
Live Outside Woodstock?
Persons who live outside Woodstock may register for a Non-Resident Woodstock Public Library Card, which is subject to an annual fee of $50. More information on the Fees for Non-Residents is available online and by speaking to a staff member at the Circulation Desks. Please note. This fee will increase to $55 per person, per year as of June 1, 2021
Out-of-town Student in a Woodstock School?
A Non-Resident Student membership is available for those who do not live in Woodstock but can provide proof of enrollment in an elementary, secondary or post-secondary school in Woodstock. This membership is available for a $5 annual fee.
Internet Access Card
Are you more interested in using our Public Computers? No problem. We have a card that will give you access to the Internet, word processing and all our online databases at no cost.

Internet Access Application
Lost your Library Card?
It is very important that you let the Library know that your card is lost or stolen. You are responsible for all materials checked out on the card. When you report the card lost, we will inactivate it, thus protecting you from any unwanted charges. Replacement cards can be purchased for a $2 fee.
Application Forms
To apply for a Library card, you must visit the Check In desk with photo identification and proof of address. You will be required to complete an application form, which you may do ahead of time by clicking on the forms below and bringing it in with you. Applicants high-school aged and older should complete the Adult Application while applicants in Grade 8 or younger should complete the Juvenile Application.

Adult Application

Juvenile Application
Acceptable Identification
Name identification (Driver's License, student card, other government issued identification, etc.)
Proof of address (Driver's License, other government issued identification that includes your address, property tax receipts, recent mail, etc.)
Customers without identification are eligible for a Monthly Internet Access card.
Create a Username (Alt ID)
A Username (Alt ID) is a name you create that can be used instead of your Library Card # when you login to Enterprise, making the login process easier for you to remember. To create your Username, login to Enterprise using your Library Card # and PIN and go to the Personal Information tab. Click Edit and create a Username that is less than 20 characters and does not contain special characters like @ # ! _ * for example.
Create a PIN/Password
Upon registration, Library Staff will provide you with the opportunity to create a PIN to gain access to our online catalogue. The first time you login to the online catalogue, you will need your library card number and PIN. Once you've logged in, you may change your PIN to any combination of numbers and letters.
Card Expiry and Renewal
Library cards are valid for one year, with the only exception being the Monthly Internet Access Card. Library card renewals are handled at the Circulation Desk, with proper identification and proof of address.
Transfer of Privileges
It is possible to temporarily transfer borrowing privileges to another person. This is typically done in times of illness. These requests must be made in writing. A Temporary Transfer form is available at the Circulation Desk.