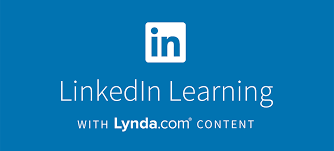 Say hello to LinkedIn Learning! With your WPL library card, you have access to LinkedIn Learning, an online educational platform where you can choose from thousands of online courses to learn in-demand skills from real-world industry experts!
With thousands of courses and personal recommendations, you can discover, complete and track courses related to your field and interests. LinkedIn Learning allows you to create and set personal goals and offers Certificates of Completion of courses you finish.
What You Need
To use LinkedIn Learning on a Computer
An internet connection to stream the content
The current version or last major revision of one of these web browsers:

Google Chrome
Microsoft Edge
Mozilla Firefox
Opera
Safari
Need help getting started? Download our guide here.
To use LinkedIn Learning on a Smartphone or Tablet
Please note that the LinkedIn Learning app is not the same as the LinkedIn app
Download the app from the Apple store for your iPad or iPhone or Google Play store for Android devices.
Enter mywpl when prompted for your library
You will require a wireless connection to download or stream the content*
Need help getting started? Dowload our mobile guide here.
* Using wireless internet cellular data is not recommended as streaming/downloading multimedia content can consume a lot of bandwidth. Wireless internet access is available at the Woodstock Public Library.
What Kind of Content Does LinkedIn Learning Have?
Business Topics
You'll find several tutorials on improving business skills, productivity, leadership, project management and presentations.
Popular courses include: Creating a Business Plan, Human Resources Foundations, Leadership Fundamentals and Digital Marketing
Technology Topics
LinkedIn Learning is a great resource to teach yourself new computer skills and software. For more advanced users, it also includes courses on computer programming.
Popular courses include: Learning Cloud Computing, Software Development and JavaScript Essential Training.
Creative Topics
A collection of tools and skills for creative, design and engineering professionals
Popular courses include: Animation Foundations, Video Editing, Introduction to Graphic Design and Photography Foundations.
LinkedIn Learning and Your Privacy
In order to access lyndaLibrary, you will be required to create a LinkedIn Learning account. LinkedIn Learning is a third-party service that is governed by its own privacy policy and practices. We advise that you consult LinkedIn Learning's Privacy Policy before agreeing to use this service. When you register for an account, the library will only provide LinkedIn Learning with information to verify that you are eligible to borrow.
Frequently Asked Questions
Patrons now have access to the entire LinkedIn library of over 16 000 courses. LinkedIn Learning includes courses in English, French, German, Japanese, Spanish, Mandarin, and Portuguese.
No. All you need is a valid WPL library card and PIN.