cloudLibrary

Our cloudLibrary collection is available in both eBook and eAudiobook formats! This collection covers best selling fiction and nonfiction titles for adults. Borrow up to 10 items at one time.
eBooks: 14-day loan
eAudiobooks: 14-day loan
Place up to 6 holds at one time and receive an email when it becomes available.
Get the cloudLibraryTM App
cloudLibrary app for Kindle Fire
cloudLibrary for eInk & desktop (web version)
Need some help getting started?
Download our cloudLibrary Guide
Download our cloudLibrary for Kobo Guide.
Take a look at the cloudLibrary support page.
Hoopla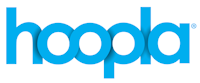 Hoopla's collection of ebooks and other formats continues to grow rapidly. With more than 180,000 always available ebook titles it is a collection worth exploring. This collection covers popular fiction and nonfiction titles for adults, teens and kids. Borrow and stream up to 4 items per month.
Movies & TV: 3-day loan
Music: 7-day loan
Audiobooks: 21-day loan
eBooks: 21-day loan
eComics: 21-day loan
Titles are available all the time. No holds and no waiting--they are ready when you are!
NEW! Hoopla Bonus Borrows: This collection of over 1000 items is available to borrow and stream without using monthly credits. Search "bonus borrows" to discover these titles.
Get the Hoopla App
Hoopla Digital on the Apple App Store
Need some help getting started?
Take a look at our Getting Started with Hoopla guide