We've Gone Digital! Our programs are now available online through our website, Facebook, Instagram, on our YouTube channel, and even live through Zoom! New content will be released daily - check back often for updates!
Social Media Watchlist
Check us out on Facebook (@myWPL), Instagram (@mywpl), and Twitter (@WoodstockLib) to add some fun and informative moments to your day. Posts are live at 10 am daily.
Tuesdays:
I Spy: Test your I Spy skills with a virtual challenge! Take a look at the scene we've created and see if you can answer each question.
June 2: Forest
June 16: Canada
Thursdays:
Stress Busters for Families: Keep your family trhiving with tips and resources to help manage stress and anxiety. May 14, 28.
Fridays:
Friday Dance Party: Bust a move with our suggestions on how to have an at-home family dance party! June 5, 19
Saturdays:
Saturday Story and Activity: Create your own at-home story time with an ebook or movie recommendation paired with a fun activity!
Special Events:
Wed. May 6: Learning at Home Guide
Wed. May 20: Kids Escape Room Challenge: Library Lockout
Wed. June 17: Kids Escape Room Challenge: Rockin' Road Trip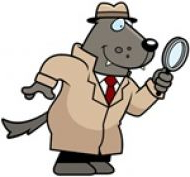 YouTube Programs
Baby and Toddler Rhyme Time (birth-35 months)
Tune in Fridays at 10 am for some of our favourite Rhymes and songs that you can do at home with your babies or toddlers! Fridays, May 29, June 12, 26.
May 1: Baby Tickle Rhymes
May 15: Scarf Rhymes
Family Read-Alouds (2-5 years)
Cozy up and enjoy a book reading from one of our Children's Librarians.
Thursdays, June 4, 18. Posted at 10 am.
May 7: Nannette's Baguette by Mo Willems
May 21: The Pout Pout Fish by Deborah Diesen
Full STEAM Ahead (3-8 years)
Join us in this virtual exploration that combines art, experiments, and learning as we discover new ways to have fun from home.
Mondays, June 8, 22. Posted at 10 am
May 11: Fluffy Slime
May 25: Sidewalk Chalk Paint
Read-Aloud with Hermione (8-12 years)
Grab your wands, snuggle up with your familiars, and curl up to hear a story with "Hermione Granger"! This month we begin reading Harry Potter and the Philosopher's Stone by J, K. Rowling.
Wednesdays. Posted at 10 am.
May 13:
Chapter 1, Part 1
Chapter 1, Part 2
May 20:
Chapter 2, Part 1
Chapter 2, Part 2
May 27:
Chapter 3, Part 1
Chapter 3, Part 2