We've Gone Digital! Our programs are now available online through our website, Facebook, Instagram, on our YouTube channel, and even live through Zoom! Check back often for updates!
Social Media Watchlist
Check us out on Facebook (@myWPL), Instagram (@mywpl), and Twitter (@WoodstockLib) to add some fun and informative moments to your day. Posts are live at 10 am daily.
Mondays:
Junior Coders (6-10 years):
Explore the world of computer coding with simple activities, book ideas, and resource recommendations aimed at introducing kids to this quickly evolving skillset.
Mondays, Oct 12, 26, Nov 9, 23, Dec 7, 21

Junior Coders' Book List

Code a Robot
Tuesdays:
I Spy (6-12 years):
Test your I Spy skills with a virtual challenge! Take a look at the scene we've created and see if you can answer each question.

May 12: Beach Day
June 2: Forest
June 16: Canada
July 7: Candy Shop
July 21: At the Library
Aug 4: In the Park
Aug 18: My Garden
Sep 8: Back to School
Oct 2: Fall Hauntings
Nov 3: I Spy in Space
Dec 1: Happy Holidays!
Lego Challenge (Family):
Children's staff will be posting a Lego challenge for families to test your building skills.
Oct 6, 20, Nov 10, 24, Dec 8, 22
Saturdays:
Saturday Story & Craft (2-5 years):
Each week we'll highlight a great picture book you can share with your child and an easy craft you can make together. Weekly, Oct 3-Dec 19.
Special Events:
Escape Room: Escape the Big Bad Wolf (family)
Saturday, Nov 14
Little Red was on her way to Grandma's but she ran into the Big Bad Wolf in the woods. He's extra hungry today and is trying to gobble her up. Can you help her escape? Watch for the link here and on social media.
Junior Coders: Hour of Code (6-10 yrs)
Monday, Dec. 7
Participate in the Hour of Code with WPL! This year during Computer Science Education Week, Dec. 7-13, we are challenging kids to try something new. Turn someone in your life into a superhero by programming them to fly over buildings and other super cool moves in "Code Your Hero". You'll show off your hero's special powers using CS First and Scratch. Links to this exciting program will be posted on all social media channels.
Spring/Summer:
Wed. May 6: Learning at Home Guide
Wed. May 20: Kids Escape Room Challenge: Library Lockout
Wed. June 17: Kids Escape Room Challenge: Rockin' Road Trip
Mon. July 20: Kids Escape Room Challenge: Camping with Bugs
YouTube Programs
Family Christmas Read Aloud (Family)
Join us for two special family read alouds on our YouTube channel. Available to view until Dec. 31.
Wed. Dec 2: How the Easter Bunny Saved Christmas
Wed. Dec 9: The Night Before a Canadian Christmas
Full STEAM Ahead! (6-12 years)
A twice-monthly YouTube program that features fun STEAM activities for budding scientists, engineers, and artists!
Saturdays, Oct 10, 24; Nov. 7,21; Dec 5, 19
Past videos:
Oct 24: Craft Stick Catapult
Oct 10: Rain Painting
May 11: Fluffy Slime
May 25: Sidewalk Chalk Paint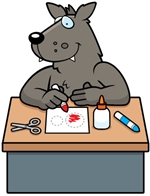 Past Program Videos
Baby and Toddler Rhyme Time (birth-35 months)
Tune in for some of our favourite rhymes and songs that you can do at home with your babies or toddlers!
May 1: Baby Tickle Rhymes
May 15: Scarf Rhymes
May 29: Shaker Rhymes
June 12: Bounce Rhymes
June 26: Heather's Favourite Interactive Songs
Craft Club (6-12 years)
Children's staff will be posting fun how-to craft videos for kids. Just grab the supplies you need and get crafty!
July 7: Paper Roll Koi Fish
July 21: Glitter (Sensory) Jars
Aug 4: Pet & Plant Rocks
Aug 18: Pine Cone Hedgehogs
Family Read-Alouds (2-5 years)
Cozy up and enjoy a book reading from one of our Children's Librarians.

May 7: Nannette's Baguette by Mo Willems
May 21: The Pout Pout Fish by Deborah Diesen
June 4: Norman the Slug with the Silly Shell by Sue Hendra
June 18: Escargot by Dashka Slater