General Accessibility
Wheelchair accessible service desks, washrooms and family washroom
Service animals and service animals in training are welcome
Automatic doors at entrance
Elevators
Accessible Catalogue Search computer
Accessible Self-Check stations
Computer workstations are wheelchair accessible
Blind and low-vision customers
Magnifying sheets and illuminated handheld magnifiers
JAWS for Windows - reads on screen text aloud
Kurzweil 1000 - converts scanned text into speech and reads it aloud
ZoomText - computer screen magnification software
Large Print keyboard
CCTV Magnifying System
Library Collections
Large Print books
Books on CD for adults, young adults and children
eBooks and eAudiobooks
Closed-captioned DVDs
Braille books available through Interlibrary Loan
Accessible Library Materials via CELA
The Woodstock Public Library is partnered with the Center for Equitable Library Access (CELA), Canada's most comprehensive accessible reading service, providing books and other materials to Canadians with print disabilities due to low vision or blindness, physical disabilities, and learning disabilities like dyslexia.
CELA can provide:
500,000+ accessible titles in audio, braille or accessible e-book formats.
Award winners, best sellers and classics from all genres.
Free DAISY apps for iOS and Android devices.
Click here for more information about CELA.
Please contact the Library at 519-539-4801 to enroll with CELA.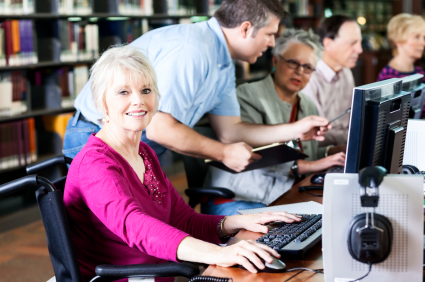 Homebound Service
If you are homebound, either temporarily or for a longer term, for reasons of health or mobility, the library can help keep you supplied with books to read or movies to watch. Our librarians are happy to select material on your behalf and to have it ready for pickup by a family member, friend or caregiver.

For more information about this service, view Homebound Service or contact our Reference staff at 519-539-4801.
Do you require documents in Accessible Formats or Communication Supports?
Arrangements can be made for accessible formats and communications support at no additional cost upon request in a format that takes a person's disability into account. If you require any library documents in accessible formats or communication support, please contact the Library at 519-539-4801.